Resources: Keyboards and "Fake Books"
Making decisions about what music gear and equipment to get is hard, here's a list of gear that I use or like and recommend.
FYI, if you buy anything by clicking on these links, I may get a small commission from it. I'd recommend the same things whether I got a commission or not, and you can just do your own search yourself if you'd rather cut me out of the loop. 🙂
Fake Books
"Fake Books" give you the basic chords for songs as well as lyrics, and the basic melody written out as sheet music. It's a handy way to have hundreds of songs at your fingertips and be able to play them using the tools you learn as a Piano Genius member. (Dressing up basic chords and adding the melody if needed by using your ear, making notes on the sheet music, or a combination of the two.
Some Fake Books have all the songs in the key of "C" which is the easiest key for piano (since there are no sharps or flats.) I own "The Best Fake Book Ever" and have used it multiple times when I've quickly need to play songs. 🙂
Keyboards
There are lots of different keyboards you can get for different uses. Unless otherwise noted, these keyboards are all touch-sensitive, meaning they play louder when you hit the notes harder.
Yamaha YPT260 61-Key Portable Keyboard with Power Adapter

– If you're on a budget, this is a great entry-level keyboard at just around a hundred bucks. 61 keys is the minimum number of keys you want or you'll feel like you don't have enough room. At this price-point, it's got a lot of features and will get you up and running inexpensively (Just over $100). Be aware the sustain pedal is sold separately. (You definitely should get a sustain pedal.)
Casio CTK4400 PPK 61-Key Keyboard

– I bought one of these for my niece and was very impressed with it. The keys have a nice feel to them, and there are lots of great sounds. As with most keyboards, the sustain pedal is sold separately. Note that if you select just the keyboard instead of the stand/headphone bundle, it's only about $150. I'd buy it again.
Yamaha YPG-235 76-Key Portable Keyboard Pack

– 76 keys is realistically the most keys you'll ever need (on an 88-key full piano, you never use the top or bottom octaves) and it sounds good at a great price. It has two built-in stereo speakers that sound fine, and you can also run it to an external sound system. It even comes with a stand and headphones. ($250 range)
Yamaha YPG-535 88-Key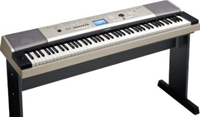 is the "big brother" to the 76-key version, it's built in to its stand and has "weighed action" that makes it feel more like a real piano.
My sister has this in her house and it's nice and thin and doesn't take up much room. ($500 range)
Casio Privia 88-Key Digital Piano
– This is a nice keyboard and has keyboard-related sounds only (piano, electric piano, 18 sounds total. There is an optional stand that can be purchased for it that makes it look like a "full" piano. Casio is more popular in Europe than in the U.S., so there aren't as many Casio keyboards around here, but they're quite nice. ($500 range)
Yamaha DGX650B Digital Piano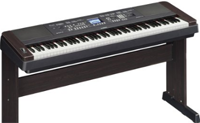 – This keyboard feels and sounds like a "real" piano, and at this price point (around $750) for what you get, it can't be beat. I'd never buy another real piano, good digital pianos just sound better and are more enjoyable to play, and they never go out of tune.
Yamaha YDP143R 88-Key Digital Piano –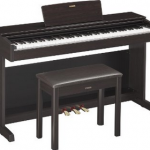 I own an older version of this keyboard, and I love it. The speakers are mounted underneath the keyboard so the sound comes out from below, and it sounds, feels and plays like a real piano. If mine broke, I'd turn around and buy this one again.
It's nice enough looking that it's a home improvement, something visitors will comment on.
Keyboard Accessories / Sustain Pedals
Some sustain pedals work in the reverse position of others, so to be safe you're better off getting the same brand of sustain pedal as your keyboard, or at least do a search online first to see if they're compatible. Some sustain pedal have a "polarity switch" so they'll work with all keyboards.
There are two types of sustain pedal, they ones that look like "real" piano sustain pedals, and square pedals. The square ones are cheaper, and they both work.
Luminously Universal Sustain Pedal – Shaped like a real sustain pedal, works with all keyboards. (Around $25) This type of sustain pedal is better to practice with than the less expensive square ones.
Yamaha Square Sustain Pedal – For Yamaha keyboards only. ($13 price range)
Casio Sustain Pedal (square) – Works for all Casio keyboards.