"Grab This Biggest Discount Ever Offered
On Our Piano Training, Proven To Improve
Your Playing In Days, Not Months."
(This discount is only valid today)
Beginner To Expert Training - Skip The Frustration - Impress Your Friends & Family
Learn to play piano like a pro - from a pro
Skip the 90% of traditional piano lessons training that is basically useless unless your dream is to play classical music
Blow your family and friends' minds by getting better faster than they'd have thought possible
Join our community of like-minded piano enthusiasts world-wide having fun while getting better

From: Tim GrossFriday, November 27
Through this special page you can access all 60+ Modules immediately for two weeks for just $5.

I want to make 2020 your best year ever on piano, so I'm opening up my entire vault of training for you to access right now, and if you continue on as a member you get a killer discount.


The Piano Genius training system was created by Tim Gross.
I've has been playing keyboards professionally in rock bands, in duos with guitar players, and playing solo "piano bars" for the last 30+ years. The photo on the far left was taken in the '80s at an L.A. club called Madame Wong's West. I'm currently in Rick Springfield's band (far right photo) touring the country on a regular basis. (Rick Springfield's biggest hit is "Jessie's Girl", and he's had 16 other top-40 hit songs as well.)
I've also toured/performed with Tommy Tutone, Robin Zander (Cheap Trick), Terri Nunn (Berlin), Chuck Negron (Three Dog Night),  Greg Kihn, and others.
I've played with 40-piece orchestras and 20+ piece jazz bands as well as solo piano bars. I've played music in paradise-like resorts and biker bars I was worried about getting stabbed in :-). I've played at large outdoor music festivals, and I've played in dives where there were only a couple of people there. I've played at drunken frat parties, and I've played "Here comes the bride" in churches at weddings. I've performed at highbrow classical music recitals playing a grand piano wearing a suit and tie, and I've had fights break out right in front of me in the middle of a song.
I'm not saying this to brag, I just want you to understand that whatever it is you want to be able to do on piano, I've probably done it and can help you. Through it all, I realized one thing: Week in and week out, 10% of what I know is what I do 90% of the time. And that's what I'm here to show you, as quickly and as simply as possible.
(Click the "X" at top-right corner to close this window)
Testimonials From Piano Genius Members
Below are reviews and feedback that current members of Piano Genius have posted, I hope to add yours soon! 🙂
[full-testimonials category="xx"]
(Click the "X" at top-right corner to close this window)
I'm very happy to hear how much my training is helping existing members - that's why I'm discounting the price for you to try it yourself... You're about to get access to everything below:

This Will Kick You Into High Gear
I've been continuing to create new piano Modules for years now, and the lessons just keep getting better. From adding the "light up keys" to being able to slow down the videos as you're watching them, to improving how and what I teach based on members' feedback and requests, and more.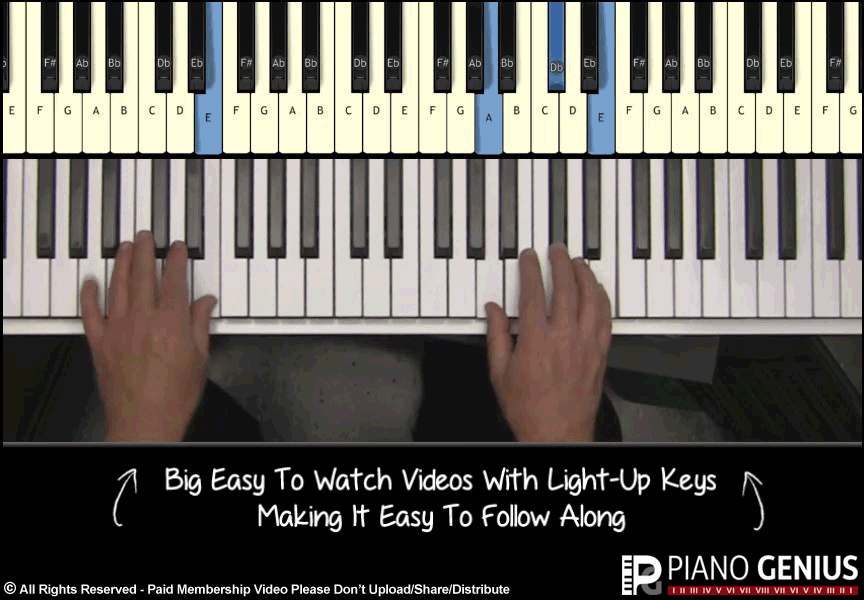 And remember, as an active member if you're confused about anything at all you can just ask and I'll either help you on the spot by clarifying anything you need, or if needed I'll even create new videos to make it easier to understand.
60+ hours of bite-sized easy to follow video training
That's 600+ training videos ready to watch right now
Browser-based video tutorial viewing, nothing you have to download
No software installation or setup required
Ask unlimited questions, get unlimited help and feedback
Playable on PC, Mac, Laptop, iPad, Tablet, iPhone, Android Phone, iPod Touch, Android-Based Devices, etc.
New video piano training added almost every month
Cancel your membership at any time if you don't love it
How Does This Work?
Get instant unlimited access to all streaming video training from any device that can access the Internet. (PC, Mac, Laptop, iPad, Tablet, iPhone, Smartphone) All you have to do is register and you can start watching all these piano training videos right now.
Can I Download The Videos?
The "All Access" membership allows for streaming access only. You will need an Internet connection in order to watch the videos. If you would like to purchase individual Modules for permanent download, contact us through our Help Desk.
Am I Locked Into A Contract?
No, you have the full two weeks after registering to cancel or request a full refund of your $7 registration, and after that you can cancel your monthly membership dues at any time with no penalty or extra fee. There are no contracts, you can stop at any time.
Is My Registration Safe And Secure?
Absolutely. Transactions are processed through the same merchant account I've had for over 20 years through Authorizenet/1ShoppingCart or PayPal, trusted by millions of customers worldwide.

It's Like Having Me Sit Next To You
The video training is just like having me sit next to you helping you play the piano. Members keep telling me I have a knack for answering the exact questions they have, and that for the first time everything becomes clear to them.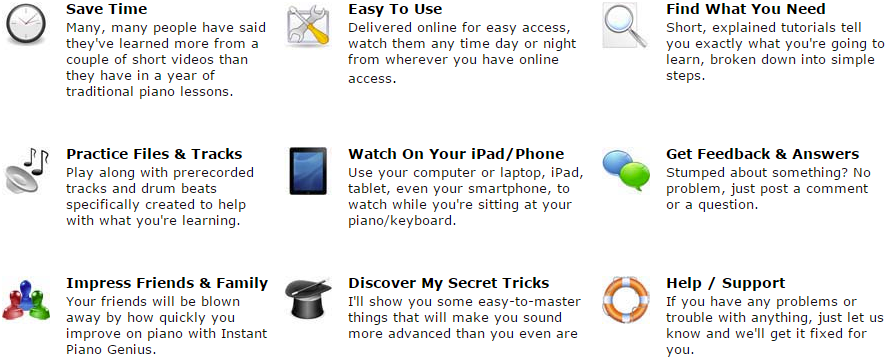 Try It And See For Yourself
Based on current members' feedback, you'll discover that registering for your Piano Genius membership will be a huge help to you and that it'll make you very happy... I want to remove all the risk for you to see for yourself so you're getting a 2X Guarantee:
1) If you're not happy with your All Access membership for any reason, just let me know and your initial registration fee will be refunded in full, you won't be charged further, and we're still friends. 🙂
2) You can also just cancel your membership at any time and you won't be charged further. There's no obligation, no future commitment, no contract. Either it helps you and you stay a member, or it doesn't help you and you cancel - Simple as that.
Register now and see for yourself, the newly added training just keeps making it better and easier to understand. -Tim
P.S. - With the thousands of Piano Genius members I've worked with in the members area I've found that there's usually a "breakthrough moment" for most people that suddenly makes everything easier and more clear for them after that.
YOUR breakthrough moment is waiting for you inside. Come on in, and I'll be there to answer any and all questions you have. In fact as an active member you can ask me as many questions as you need to and I'll be helping you personally.  I'll see you inside. 🙂   Got any questions? Let me know.
Click here only if you are not going to register
All text, code and graphics on this website are
Copyright © Educated Media LLC. - All rights reserved.
Privacy Policy | Disclaimer | Terms of Service | Contact Us