Controversy About My Piano Teaching Approach
Hi, Tim Gross here, creator of this whole shebang…
About 5 years ago I uploaded a YouTube video explaining my approach to learning piano. In about 15 minutes, I gave a quick explanation of the "number system" approach I use to play music, how to play any Major/minor scale, any Major/minor chord, and the most common chord progression in popular music that allows you to play hundreds of songs by only knowing 3 chords.
It was my attempt to cut through all the fluff and unnecessary details, and give as much helpful training I could in the shortest amount of time. After I created the video I came up with the idea of calling it "Instant Piano Genius" because it so quickly gave a framework for how to play chords, scales, and songs just by remembering a few rules, without all the typical memorization and trouble.
Happily, to date it's been watched well over 3 million times. (I know, right? Crazy!)
There are literally thousands of positive YouTube comments on it, but every once in awhile somebody comes along that really, really hates it! (Oooh, controversy, grab some popcorn!)
The things some people take exception with can be broken down into the following categories: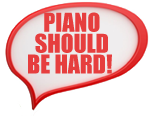 1) They hate that I say I'll show them "shortcuts to help you play better, faster."
Apparently, these people don't seem to think there are any better or worse approaches to learn piano, that there aren't good and bad piano teachers, or ways to focus more on the most important things and to not spend much time on the least important things.
No offense, but that's just ridiculous.
I'd say that 90% of the time, I play piano using about 10% of what I know. So what I try to do is to focus on that 10%, since it provides about 90% of the benefit. It doesn't mean it's not a reasonable idea  to learn the other 90%, but don't you want to start off focusing and practicing whatever will get you the best result the fastest?
2)

They say the name "Instant Piano Genius" sounds hypey, like it's over promising something.
OK, I can see their point. When I created that first YouTube video, I thought "Instant Piano Genius" was a fun name for it, and what the first video showed really did live up to that name. At that point I didn't have any serious intention of creating a piano training course, I just did it for fun and to try to be helpful.
If I'd planned from the beginning to create a piano training course, maybe I'd have called it "The Very Serious Piano Training Course", or something equally somber or boring. But I didn't. 🙂  Since then the name has been shortened to PianoGenius.com

3) They whine about me calling the note above the seventh note of the scale "8".
(Try to picture me rolling my eyes.) To play a Major or minor scale, there are eight notes. (In the key of C-Major, they are all white notes, starting with the C note. As you count up the notes C(1), D(2), E(3), F(4), G(5), A(6), B(7), when you finish up on the C note that's right above the B(7) note, I call it an "8" (because it's the 8th and final note of the 8-note scale), it's also a "1" because it's a "C" note, just an octave higher.
Long story short, a couple of people have insisted that there's no such thing as an "8" note, that it's a "1", and since they think I'm "wrong" about that supposed fact, I must be wrong about everything else I say too. Look, there are more advanced chords called "9" chords and "11" chords that use the notes above the "8" note, so if you can refer to the "9" note (which is the same as a "2" note, you can certainly call the note that's an octave above the "1" note an "8" note.

4) They get really picky about what things are called.
A) There's a guy who just lost his mind because he disagreed with my calling the interval from C to D a "whole step" and the interval from C to C# a "half step." He said that was wrong, that those intervals are called "whole tones" and "half tones", and that anyone who called them "steps" couldn't be trusted, heh.
Well it turns out that depending on what area of the world you live in, those are synonyms: "
Whole Step" = "Tone" or "Whole Tone", and "Half Step" = "Semi-Tone".
So if I'm saying "half step" and you're used to calling it a "semi-tone", just know they're the same thing. 🙂
[ez_box title="Why Do They Get So Upset?" color="grey"]
Side Note: Why are some people so hung up on unimportant details? I think it's because after they've spent hundreds of hours struggling to do something one way, they feel very threatened when they're told it may not have been the best way, so they lash out.
[/ez_box]
5) Another ranter took issue with my statement, "If you don't learn the Number System, you're wasting your time." He said it was the most ridiculous thing he'd ever heard in his life.
I stand by my statement.  Some people say they don't understand what the point of thinking of chords in terms of numbers is, since music charts show you chords, not numbers.
Let me try to explain using this analogy:
If chords and chord progressions were words, then the "number system" behind them would be the alphabet. If you were learning how to read words, I guess you wouldn't really have to learn the alphabet, you could just memorize each word individually, and remember that "hat" is the thing you put on your head, while "cat" is the furry pet that purrs when you pet it…
But if you learned to read that way, you'd never realize that the "at" sound was created by the letters "a" and "t", so when you later saw the word "fat" for the first time, you'd have no idea how to sound it out if you hadn't learned the sound the "f" letter made, and the sound the "at" letters make next to each other.
In a similar way, if you knew the chords to "Twist & Shout" in the key of C were C, F, G, unless you knew the underlying "number system" that told you those were the 1, 4, 5 chords, you'd have no idea in the world how to play the song in the key of E.
Once you're comfortable with the Number System, you effortlessly notice the relationship between chords you're playing, so what you're playing automatically makes sense instead of just being random notes and chords you have to try to memorize in order to remember how to play.
 5) I believe that practicing scales isn't a very good use of your time.
There, I said it. Every traditional piano student is required to spend hours practicing scales. The funny thing is, you don't actually play scales in songs, so why are they considered so important? Don't get me wrong, it's a good idea to train your fingers to do certain things, but it's a better use of your time to train them to do things you'll actually play in real life.
6) I don't believe being able to read sheet music/notation is necessarily important for a lot of people.
Unless you want to be able to play classical music note for note and are willing to spend dozens and dozens of hours on each song learning them to be able to do that, it's probably not a good use of your time to try to be able to read sheet music.
The "dream" people have is to be able to sight read music, meaning they want to be good enough to look at sheet music they've never seen before and play it perfectly up to speed the first time through. You want to know a secret? By my estimation, less than 1% of people who learn to play the piano ever get good enough to do that. Much less than 1%.
I took classical lessons for 7 years and never got close to being able to do that, and since then I've worked out a better, faster, more enjoyable way to play music using basic chord charts (not reading individual notes), understanding the Number System, and training my ear to hear what sounds right and to know what's coming next.  I don't really read music anymore at all.
I don't care about official names/labels, or details that seem unimportant and that don't help me play the piano better or enjoy myself more. I've never heard any pro musicians I've worked with haggle about terminology or argue "book learnin' details", they just want to get the job done.
If you agree with that approach, you should spend a little time checking on what else is here. I can tell you that the people who like it, love it.
To get immediate access to 600+ more piano videos,
click here to become an All Access member.
Register To Watch 600+ More Piano Training Videos Now
 | 10 Free Videos | About PianoGenius.com | Bio/Background | Blog | Concerts | Testimonials |