Special Membership Discount Only Guaranteed
If You Sign Up Before Midnight
(Plus you can lock in a permanent discount on your
continuing membership by starting your membership now.)
Your monthly membership is $49.95/month just $19.95/month when you become a member by grabbing your password right now. You'll get full access to the Module 1 training instantly and if for any reason you don't feel the training is for you, just let me know and I'll happily refund every penny.
If you love Module 1 and want more, you can keep your membership and you'll be billed $49.95 just $19.95 at the end of that 30 days, then you'll receive immediate access to Module 2 which you can try for 30 days as well (and then Module 3, 4, etc, one more each month you remain a member.)
It'll be the same every month - You only pay for and progress to the next Module after each 30 day "try-out". It's completely risk-free, and if you don't think it's amazing and exactly what you need, just let me know within the next 30 days and you'll get a refund of every penny. No hassles, and we're still friends, I just want you to have the chance to try it out for yourself.
(Important: If you wait to join you'll get less, not more. Future monthly modules will be timed to your join date, so when you join now, you'll get Module 1 immediately, Module 2 in thirty days, Module 3 in sixty days, etc. If you wait sixty days to join, you'll get Module 1 at that time, Module 2 thirty days after that, etc.
You can cancel your membership at any time (and you'll continue to have unlimited access to the video training you've received up to that point), but based on initial member response so far, I don't think you'll want to.
Start Your Risk-Free Membership Now
And See For Yourself
Based on current members' feedback, I believe having an Instant Piano Genius membership will be a huge help to you and that it'll make you very happy... I want to remove all the risk for you to see for yourself.
To your improved piano playing, your friend Tim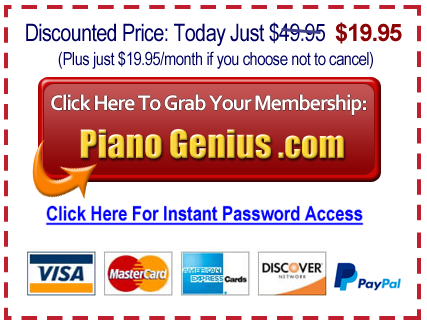 PS - If you liked the free videos I've given to you so far, you're going to love your full membership - You get play-along tracks, downloadable drum beats to use... everything you need to have fun while you get better playing the piano now.
PPS - There's no risk, I just want you to try it for yourself and if you're anything like those who've already joined, you should love it! But if not, just let me know and I'll cancel your free trial and you'll never be bill, no hard feelings. :-) See you inside.
Get Instant Access By Starting Your Risk-Free Membership Now